medium size - 8" x 12"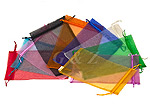 Size: 8"W x 12"H (20cm x 30cm). Drawstring closure.
Perfect for box chocolates or other gift items at this size.
View large size picture here


Other Sizes Organza Bags:
Ten Colors
Drawstring closure. Available colors: red, orange, yellow, green, sky blue, diamond blue, purple, black, white, pink.


Wedding Favor Pouch
Only in red color. Best for wedding/party treat for guests. Gold Double Happiness printed on pouch.

View more info...
View more info...
Organza Bags, Sheer Bags, Favor Bags, Jewelry Pouch

latest
updates
April. 25, 2012
G&Z starts distributing XKites products: plastic kites, nylon kites & stunt kites.
Sept. 28, 2011
One more size added in late Sept. shipment. 6"W x 8 1/2"H (15cm x 21cm)
Read more details...
Jan. 26, 2011
New Shipment Arrived today (Kites, Organza Bags, Coin Purses)
Read more details...
Nov. 21, 2010

Upcoming shipment in Jan., 2011. More Chinese kites, oriental purses including the organza gift bags expected.
Read more details...
June 05, 2010

Silk scarves shipment arrived. 5 different styles available. Square or oblong in over 20 patterns. To order online, visit our web store here.
Read more details...
Jan. 10, 2010

New kite shipment arrived. Lots of new designs available for wholesale purchasing. Educational kites for kids are now in stock.
Read more details...